Due to intellectual property rights, The Learning Bar does not distribute its full list of survey questions. However, it is important that you know your school's survey content. This is why we make your survey questions available via the View Survey Questions link within the My Resources section.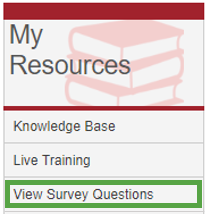 You are welcome to show the questions in this format to teachers, parents, and any other stakeholder who indicates an interest. If a parent or guardian wishes to see the questions, invite them to the school for a walk-through.
Any answers submitted during this question-viewing session will not be recorded or included in your results or reports.
It is important to note that when using View Survey Questions, you are shown all of the possible questions that a student could see when participating in the survey. However, not all students will see all of the questions. This is because some questions are 'filtered' and some questions are 'rotated.'
Please note that this is example content that shows the questions shared by all the schools in your district. If your school has added optional multiple-choice or open-ended questions, they won't appear here. However, they will appear on the actual survey.
Check out this brief Video for a quick overview on how you can preview your survey content.