How OurSCHOOL Data Can Help You Transition Back to School
With the help of our Engagement and Research Team, we are continuing to work together to support student well-being and learning. In light of the global pandemic, we have expanded our Professional Learning offerings to you, explore your options below.




NEW WEBINARS: Create a 'Transition Back to School' plan specific to your student's needs



We are holding two free webinars for our customers to help you to interpret your current results and help you to create a focused plan that is relevant to your student's needs. Designed to reach all levels of data literacy, these 30 minute online sessions were specifically created to help our members get the most out of their OurSCHOOL data amid COVID-19. During these live webinars, you will have opportunities to ask questions and learn from the success of fellow educators.

Data Impacts Session (June 11th, 3pm ET)

AVAILABLE HERE!
As your survey results may be impacted by COVID-19, we will demonstrate how to use OurSCHOOL data to pinpoint both successes and areas of need. Let our experts guide you in using leading indicator data to help support students when they return to schools.


Return to School Strategy Session (June 23rd, 3pm ET)

AVAILABLE HERE!
Take away new strategies and resources to demonstrate the value and importance of the survey initiative. Get your team engaged with ideas and develop a plan now to ensure successful survey implementations in the fall.




Personalized Sessions for the 2020-21 School Year



We are also continuing to provide personalized interactive sessions. Maximize the value of OurSCHOOL and empower your school's leadership team.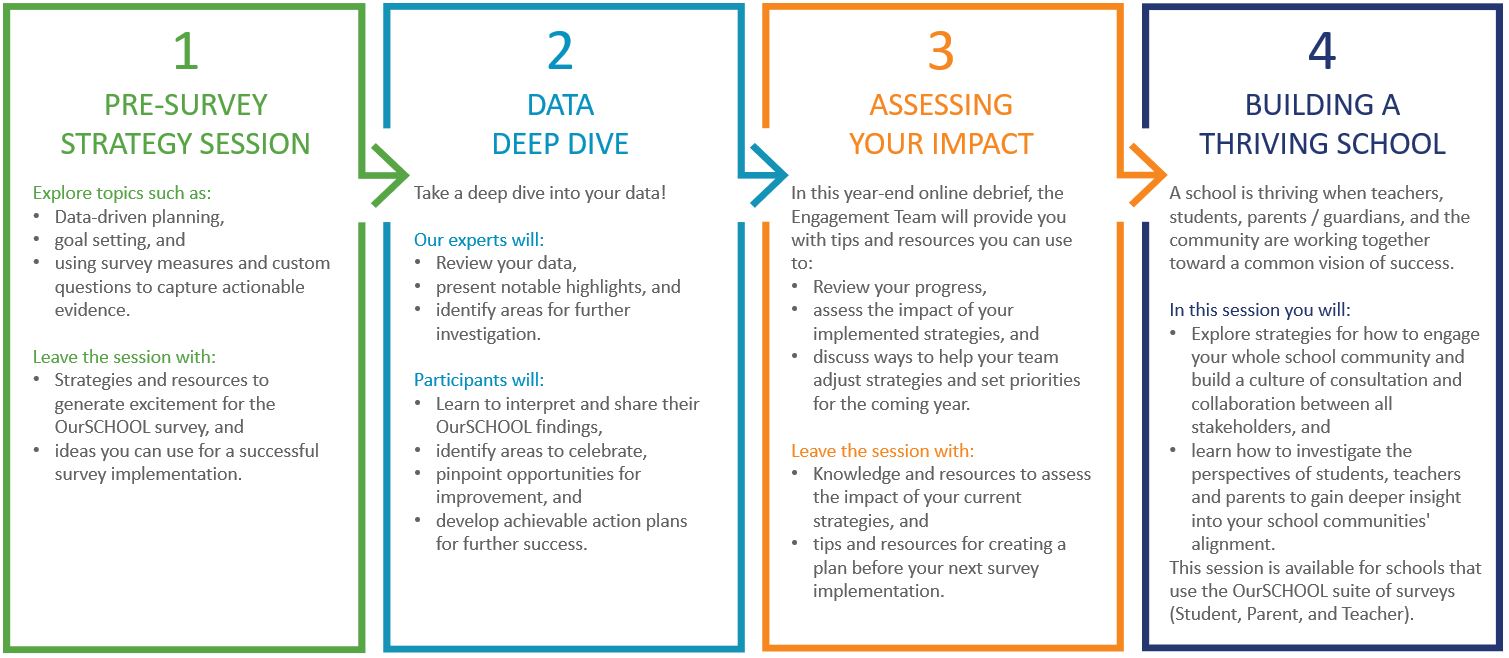 Contact us here to book your session or to discuss our upcoming free webinars.
Click here to find out how other educators are using their OurSCHOOL data to create a learning environment where all students can thrive.


OurSCHOOL Feedback & Improvement Survey

We have extended the OurSCHOOL Feedback & Improvement Survey until the end of June to allow as many educators as possible to participate. As a thank-you for your feedback, you will be entered in a draw for a $100 Amazon gift card! If you have already participated in this survey earlier in the school year, thank you for your feedback!


Take the survey HERE!



Share your News, Stories and Strategies
Follow us on Twitter, Facebook or LinkedIn, where we are sharing stories and strategies from educators like you! Share your stories, comments and feedback with us any time.



Giving all children the opportunity to thrive
Check out past editions of the OurSCHOOL newsletter on the Knowledge Base!