At home or at school, get the perception data you need
The COVID-19 pandemic has put a major strain on educators. As schools transition between remote and hybrid learning, there is an inevitable impact on the relationships between students, teachers, and caregivers.
With added responsibilities and the pressures of the pandemic, it may seem difficult to find time to run a survey. Here are some of the ways you can simplify your implementation and adapt to remote and hybrid learning situations.


Can students survey from home?

Yes! The OurSCHOOL survey is completely online and students can survey from home if needed. Based on their return to school plans, some districts have chosen to survey from home. Be sure to communicate with parents that you are allowing students to survey from home.


Can the OurSCHOOL survey be done using a smartphone?

Yes! The survey has adaptive display functionality, allowing the survey to be completed using smartphones, tablets or other internet-enabled mobile devices. We recommend using a screen 4 inches or bigger.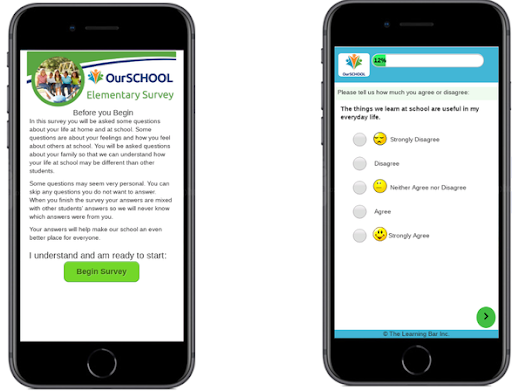 How do I distribute usernames and passwords to students at home?

For a contactless distribution, we recommend using the mail merge function in Excel (or a comparable spreadsheet) which will allow you to efficiently email unique usernames and passwords to a list of students, parents or teachers.

Can students have extra time to complete the survey?
Yes! There is no time limit when individual students take the survey; they can take as much time as needed or even complete the survey in multiple sittings. If the student saves their username/password login, they can resume the survey from the point they left off.

In addition, a few additional best practices include:
Extending the survey period;
Reducing survey content where possible;
Breaking up your survey across two separate snapshots.


While surveying may seem challenging under current circumstances, there are many ways you can continue collecting and tracking student perception data to help support students during this time. Contact us for additional supports and ideas!

Share your News, Stories and Strategies
Follow us on Twitter, Facebook or LinkedIn, where we are sharing stories and strategies from educators like you!
Share your stories, comments and feedback with us any time.



Giving all children the opportunity to thrive
Check out past editions of the OurSCHOOL newsletter on the Knowledge Base!